Make no mistake: If you have a business, someone out there is talking about you. And the truth is that you can't really do anything about it.
However, you can control how you respond to user feedback. Depending on how you handle positive and negative comments, you can dodge situations that could lead to lost sales and a tarnished reputation.
Learn more about the ins and outs of online reputation management (ORM). We'll tell you all about its importance and list down some tips on how you can manage negative press directed at your business.
Why Online Reputation Management Is Important
There are 2 main reasons why you'd want to address what customers say about you online:
To maintain positive relationships with existing customers. After all, you do want them to continue supporting your business. Using online reputation management techniques, you'll be able to address most of their concerns. At the very least, people would feel like they've been heard which goes a long way toward customer satisfaction.
To drum up new business. According to a study published by Bazaarvoice, 45% of shoppers read reviews before making a purchase. The same source also notes that 82% of smartphone users consult their devices before buying in-store. You can't afford potential customers running into negative reviews.
If you ignore negative press, you could alienate your followers and give users reasons not to buy your products or services.
On the other hand, having a great ORM infrastructure in place will have the following benefits:
Better Brand Presence
Potential customers will look to other people to determine if you're worth doing business with. So if all they see are positive reviews, then they'd have a reason to trust you.
And any customer who walks away happy from working with you will have no issues recommending you to other users in their circle.
Higher SERP Ranking
Having positive reviews on Google will put your business in a better position on the search engine ranking pages (SERPs).
Not only are you promoting a positive experience for your customers, but you're improving your chances of ranking higher on search engines.
This is especially true if you're a local business and you're part of Google's local business listings.
Improved Credibility
When people see how much customers love you, you'll be known in your community as an authority figure in your category.
That means people will want to buy whatever it is that you have to offer. They'll have no problem doing so because they know that you're a brand that won't let them down.
More Income
With a better online presence and after-sales support, you'll have no problem closing deals. People want businesses to solve issues they may have about the products or services they avail. If you aren't there when they need you, they'll inevitably lose interest in your brand.
By contrast, great communication with customers can only lead to more sales.
8 Online Reputation Management Tips
Brand reputation management isn't rocket science. You can even get it right at your first go if you follow these 8 tips:
1. Sign Up for Online Listings
There are 4 big names when it comes to online business listings: Google, Facebook, Yelp and TripAdvisor. If your company qualifies, then you definitely sign up for all of these services.
Why is this important to start off your digital reputation management?
For starters, it makes it easier for users to know more about your company. There, they can find your business name, address, phone number, and any other information they might need.
But more importantly, claiming your business means you can control the information that's being put out there. You won't have to worry about customers finding false information.
Also, you should remember that online listings rank on search engines. That means you're giving users more chances of discovering your brand as they browse the web.
2. Talk With Social Media Users
Engaging users via your social media reputation management strategy not only keeps you connected with them post-purchase. You also show potential customers how committed you are to keeping customers happy.
It also gives you a platform to promote your products, answer questions, address concerns, receive feedback, and build a community.
Because it's so much easier to contact brands through social media, you can expect for most reviews and complaints to pour in through Facebook, Twitter, Instagram and all these other channels. It's wise to have a social media team to watch out for incoming concerns that users could post on your social pages.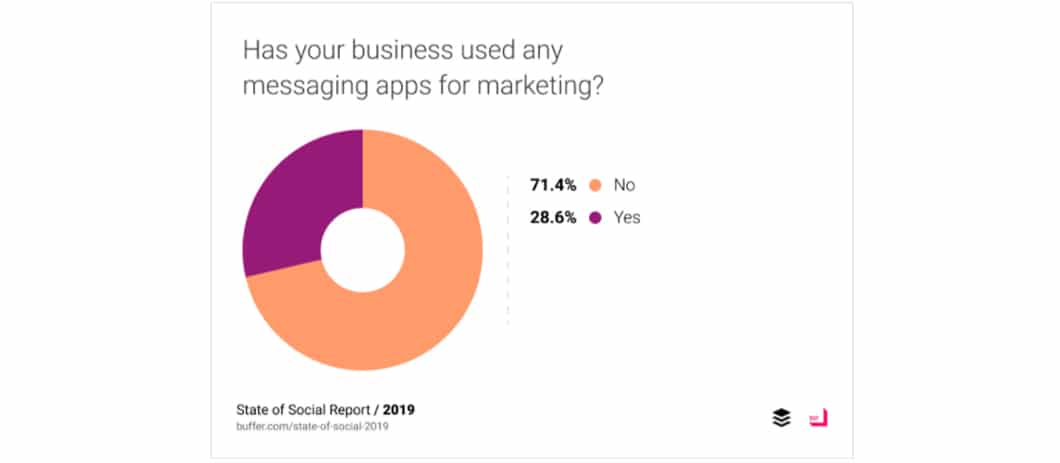 According to Buffer, 71.4% of brands still don't use messaging apps in their marketing. There's a good chance that your competition is part of that. You can get the upper hand if you start investing in social media today.
3. Post Reviews on Your Site
You should go out of your way to get reviews from real customers on your site. Doing so will instill confidence in your brand.
If you have customers from big-name companies, you should get in touch with their representatives and ask for a review. Displaying reviews from known companies is a good move to encourage users to buy your product.
The same goes for known influencers, especially those who have high credibility in your niche.
But the best reviews are from average customers who really enjoy what you have to offer. Stellar reviews will go a long way with your internet reputation management campaign.
You can dedicate a section of your site to collecting reviews and feedback. Make it easier for users to leave their thoughts and impressions.
4. Reach Out to Your Local Community
Be active in local community events and programs. If you can't afford to join at the moment, sponsoring an event would work. But what you really want is to put a face to your company. So being there in person would be ideal.
Fairs and charity events are the best occasions to introduce your brand to the community. You can give away freebies, chat with locals, be a guest judge in a contest, or do a product demonstration.
If you live in a community that rarely does events, then use this opportunity to create your own. Preferably one that has to do with the nature of your business.
5. Use Google Alerts
Google Alerts is a free service that enables Google to send you alerts every time a keyword — in this case, your business name — is mentioned online.
It doesn't seem like much, but this is a tried-and-tested tool for monitoring brand activity online. If someone inserts your brand name in a blog post, for example, then you'll receive an email notification letting you know about it.
From there, you can review the comment made about your business and address issues if there are any. In the event of a positive review, leave a comment thanking the publisher for their support.
6. Call Out False Allegations
You should always treat every complaint as legitimate. But if you do a thorough investigation and find out that the accuser is making false allegations, then you need to call them out.
There is a way to do this without sounding petty and defensive. You simply need to state the facts and not let your emotions get in the way.
It's in the best interest of your small business reputation management strategy to come out with guns blazing. By calling out false allegations, you prevent your brand from getting tarnished and maintain an outstanding reputation in the market.
If a Google review violates the company's terms and conditions, you can request Google to delete it. You can do it from your Google My Business account. All you need to do is flag the comment as inappropriate.
You also can use the platform for Google reputation management. Aside from flagging false reviews, you can reply to constructive criticism or answer any questions they have about your business.
7. Be Transparent
You need to make it clear to your followers that you can be trusted. That means you'd have to be as transparent as you possibly can.
According to a study by product data company Label Insight, 94% of consumers are more likely to place their trust in a brand when it commits to full transparency.
If there are issues about where you source your materials, then tell your customers where you get them. Are there logistic problems that are causing deliveries to arrive late? Let your customers know.
While customers will be disappointed, they will understand the situation — some more than others. Lying about the situation you're in will only worsen the problems. The truth will eventually come out. You don't want people uncovering the truth and blasting your company for hiding the facts.
8. Use Online Tools for Monitoring Mentions
Google Alerts is great. But it can only do so much. If you're ready to get serious about your brand, then you'd have to sign up for online reputation management tools.
A good business reputation management solution will help automate the process of collecting and consolidating data about your brand including reviews. It can even provide analytics data to help you gauge your current trajectory.
Notable online reputation monitoring companies include Awario, Reputology and Mention. But there are plenty of alternatives online if these three don't work for you.
Keep in mind the best ORM tools cost money. It's worth it, though, as you stand to lose a whole lot more if you don't monitor your company's online reputation.