13 Best Ways to Use IGTV for Marketing Your Business
In 2018, Instagram introduced IGTV (or Instagram TV). While it hasn't had the best reception, there are still opportunities for small business owners to leverage the platform to build their brand and audience, particularly if you already have a strong Instagram following.
To this point, we'll give you strategies for posting IGTV marketing videos as well as provide a step-by-step guide for how to create and upload your video content.
What Is IGTV?
IGTV is Instagram's outlet for videos longer than a minute. It's an answer to users who want more screen time than they can get from an Instagram Story clip, which can't exceed 60 seconds.
In fact, Instagram's Help Center notes that IGTV videos uploaded from a mobile device must be 15 minutes or less, while videos uploaded from the web can be as long as 60 minutes.
While video length restrictions on Instagram stories may have steered businesses away from promoting via video, the creation of IGTV makes it easy to upload long-form video content.
Though it's true only about 18% of people watch IGTV, the platform could be a viable way to diversify your marketing efforts.
How to Use IGTV for Marketing: 13 Ideas and Tips
How can you start using IGTV for marketing your business?
Here are a few ideas to get you started:
1. Use Existing Content
The best way to start using Instagram TV for marketing is to reformat content you've already created. If you've created video content for other platforms, such as YouTube or Facebook, repurposing them for IGTV should be relatively easy.
This might be tricky if your videos are shot for a wider screen. But if you're able to reformat, you'll be able to start using IGTV immediately and appeal to followers in a new channel.
2. Be Original
If you can brainstorm how to use IGTV in a new, creative way, you're sure to attract some eyes.
For example, restaurant owners can post videos of their chefs preparing a daily lunch special. It can be a 1-time post or a series.
On the other hand, a friendly commercial-style promotion could be another way to use IGTV for your business.
3. Give a Peek Into Your Company
Build trust with viewers by showing what a day at your workplace is like. Interview employees and executives, for example.
Take viewers on a tour of your office. Or record how your products are made. Show them what goes on in the background every day.
4. Develop How-To Content
Depending on the industry you're in, your target audience could benefit from tutorial videos.
For instance, if you're a graphic designer, you might offer a brief Photoshop 101 video, or if you're a web developer, you might offer a short video on the basics of HTML.
Create goodwill by developing video content that solves a problem. Viewers will keep you in mind when they're in search of relevant products or services you provide.
5. Record a Special Event
If your company has an annual conference, trade show or workshop, increase attendance with virtual views. Stream some of the event on IGTV and see what becomes of your marketing endeavor.
6. Get People Talking
Think about interviewing leading figures or influencers in your industry. You could also provide users with a frequently asked questions session.
Regardless of the topics you cover on IGTV, be sure to keep tabs on how your video is doing. Check on its engagement factor by heading to "View Insights."
Use the data to see your audience retention rate and average viewing percentage. Monitor comments and view counts too.
Tips for Ensuring Instagram TV Marketing Success
7. Open Up Strong
IGTV videos on Instagram preview in a feed for about 15 seconds. That said, it's important to pique interest at the get-go to entice users to keep watching. Tell viewers as quickly as possible what the video is about and why they should watch.
8. Keep It Short
Just because IGTV lets you post longer video clips doesn't mean you have to. According to the Social Media Marketing Industry Report, most IGTV videos are between 1 and 3 minutes.
So, to take advantage of IGTV as part of your marketing strategy, act fast, be creative and keep it simple.
9. Make Sense If Muted
Videos in a feed are automatically muted, and users often scroll through their feeds with the volume down. With this in mind, make sure your video has subtitles or is easy to decipher without sound.
10. Film Vertically
While IGTV videos can be vertical or horizontal, filming vertically is the smarter format considering the platform and its popularity on mobile. Vertical video also appears larger, which you want on mobile.
Creating a layout that's seamless and thought out can lead to increased views and engagement.
11. Use Hashtags and Keywords
When you're writing your video description, use relevant hashtags. This will ensure that Instagram users following a hashtag you include can find your content. Be sure to include keywords too.
12. Brand Yourself
Make sure you maintain a consistent brand image and tone. Your followers should know the video is from your company, whether they're checking you out on IGTV or YouTube.
13. Promote to All Your Followers
Besides sharing your IGTV videos to Instagram and a connected Facebook business page, let all your followers know about your latest upload. Share your video on Twitter too, or include a link to the post in a customer newsletter or email.
How to Post an IGTV Marketing Video
When you're ready to use Instagram TV for your business, just follow these steps to post.
First things first, you'll need either the Instagram app or the IGTV app, or visit Instagram's website.
After you create an account on either platform, you'll be able to share IGTV videos on both sites, and even Facebook.
Follow the steps below to upload a video from a mobile app. (If you're uploading from the website the steps are similar, though you'd navigate to your profile on Instagram.com, click IGTV, then "Upload" and select your video file.)
IGTV Video Resolution and Sizing Requirements

Keep in mind, videos that are 10 minutes or less can't exceed 650 megabytes, while videos up to 60 minutes can't go over 3.6 gigabytes. Additionally, all video files need to be in an MP4 format.

Videos can be vertical or horizontal, provided they meet IGTV sizing requirements (i.e., aspect ratio of 9:16 for vertical videos, aspect ratio of 16:9 for horizontal videos).

Additionally, videos must follow Instagram's Community Guidelines. Videos that fail to align with these guidelines can be removed.
Step 1: Click the "+" sign on the top-right of the app screen.
Step 2: The camera will turn on (in this case, the camera was facing my keyboard). Click the circle at the bottom when you're ready to start recording. You'll need to record for at least 1 minute in order to post.
Step 3: After you finish recording, select a cover image from your video or camera roll. Instagram recommends a cover photo sized at 420 pixels by 654 pixels (or 1:1.55 ratio).
Keep in mind, you'll only have the chance to add a thumbnail for your video at this point. Additionally, you can't edit a cover photo after you've uploaded it.
Step 4: Add a video title and description. Be sure to include relevant hashtags and links to your site or landing page.
At this point, you can choose to share the video on Facebook in addition to Instagram. You can also choose to make the video part of a regular series.
Once you're ready to share the video, click "Post."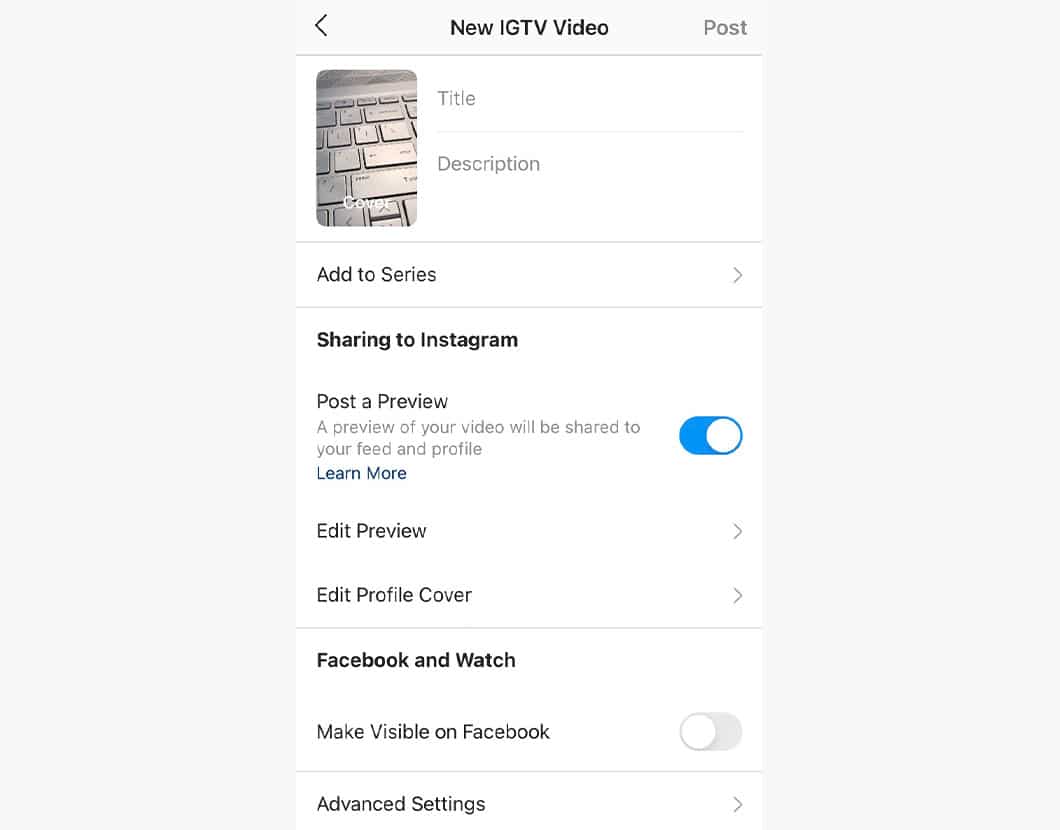 Step 5: If you want to add the video to a series before you post, select the "Add to Series" option in the image above. You'll then be taken to a page like this one below, which will house all your series.
Step 6: Enter a series name and description. Hit "Create" to finish creating your series.
The Last Word on Instagram TV for Marketing
While Instagram users view more photos than videos, video marketing on the platform still has a place.
As creators and businesses find ways to grow using IGTV for marketing, it's up to you to decide what works for you and whether this feature would be useful to your business.
While IGTV might not be for everyone, the beauty of it is that it's there, and it doesn't get much easier. Once you're ready to get started, it's just a tap of a finger away.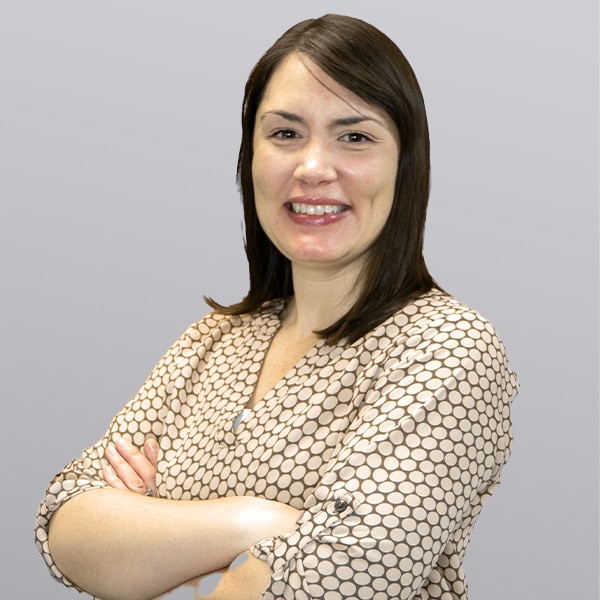 Erin Ryan
Senior Writer, Editor and Social Community Manager at Fast Capital 360
Erin has more than 15 years' experience writing, proofreading and editing web content, technical documentation, instructional materials, marketing copy, editorials, social copy and creative content. In her role at Fast Capital 360, Erin covers topics of interest to small business owners, including sales, marketing, business management and financing.