4 Types of SBA Small Business Certifications
Small business owners may struggle to lay the groundwork for their company's success. However, some business owners may face additional challenges due to their gender, economic status and location.
The good news is that there are resources to help fledgling enterprises get off the ground, including aid for minority or disadvantaged business owners. 
One of the available tools is Small Business Administration (SBA) certifications. 
Let's review these small business certification types to see if you qualify and how they can benefit your business.
What Is SBA Certification?
The SBA small business certification is a document that allows qualifying businesses to apply for federal contract work.
The SBA has an annual goal to disburse 23% of federal contracting dollars to small businesses. 
Only a small business in one of the certificate programs is eligible to apply for those contracts.
Why Is Small Business Certification Beneficial?
Certifications for companies give small businesses a special status that helps them compete for federal contract dollars.
SBA small business certification also increases visibility and offers a variety of opportunities. For example, private companies that work with the federal government might be obligated to hire a certain number of SBA-certified companies.
What Is Small Business Enterprise (SBE) Certification? 
In addition to SBA certification, qualifying businesses can also apply for SBE — or Small Business Enterprise — certification. 
What is SBE certification? It's a state or local government-issued diversity certification, which can help small businesses gain access to contract work in their respective state (e.g. with the department of transportation).
In general, businesses must meet the SBA's size standard requirements to apply for small business enterprise certification. Requirements vary across different governments, so check with your respective state's rules before applying.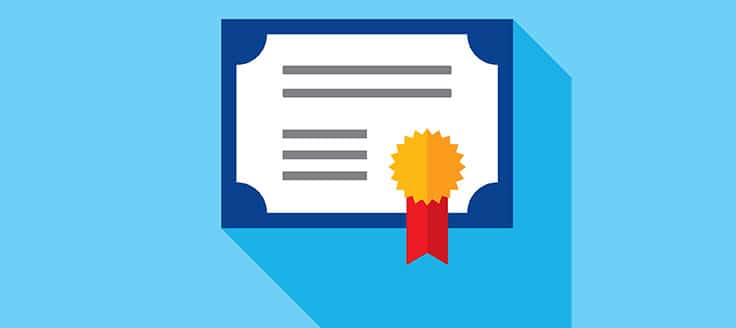 What Are SBA Certification General Requirements?
While requirements vary depending on the small business certificate programs, the general requirements for SBA certification are as follows:
At least 51% must be owned or controlled by 1 or more disadvantaged persons who are U.S. citizens.

Daily operations and management must also be carried out by 1 or more disadvantaged persons who are U.S. citizens.

In some instances, the owners must be socially or economically disadvantaged.
How to Get an SBA Certification?
If you meet the requirements for any of the small business certificate programs, you can apply online at certify.sba.gov. 
Make sure you have relevant documents about your business or personal finances ready to upload.
Now let's take a look at some of the top business certifications you could apply for through the SBA.
1. 8(a) Business Development
The government aims to disburse 5% of federal contract dollars to certified small disadvantaged businesses through their 8(a) Business Development program. 
There are 2 types of competitive contracts for companies in these small business certificate programs: 
Set-aside:

Government contracts worth $150,000 or less are set aside exclusively for small business bidding if at least 2 small businesses can fulfill the work.

Sole-source:

These contracts are awarded without a bidding process, usually if only a single business can meet the contract's requirements.
To enroll in the 8(a) Business Development program, create a profile in the federal government's System for Award Management (SAM) and complete the 8(a) online application. 
If you're accepted, you'll receive 9 years of assistance to develop your business. The program is divided into 2 phases: the developmental stage and the transitional stage.
Through the 8(a) Business Development program, companies can also participate in the mentor-protégé program, take advantage of business training and counseling. 
SBA 8(a) Business Development certification can't be renewed. 
2. HUBZone
This small business certification is for entrepreneurs located in historically underutilized business zones (HUBZones). 
Program benefits include the opportunity to compete for set-aside government contracts. Additionally, HUBZone-certified businesses get a 10% price evaluation preference during contract consideration. 
To qualify for the program, HUBZone applicants must have their principal office located in a HUBZone and 35% of their employees must live in a HUBZone.
This certification is valid for 3 years with the option for recertification.
3. Veteran Small Business Certification
Research by the National Veteran-Owned Business Association shows 70% of Americans prefer to do business with a veteran-owned business. 
Obtaining a veteran small business certification is a way to have your business officially recognized — and bring the visibility you deserve.
Unlike other SBA certifications, there is no centralized SBA small business certification program for veterans. Instead, you can complete this process through VetBiz, an organization that will formally recognize your status for the following programs: 
Veteran-Owned Small Business (VOSB)
VOSB members enjoy many benefits. While there are no general federal set-aside programs for VOSB-certified veterans, those who self-certify are eligible to participate in the U.S. Department of Veterans Affairs' (VA's) Veterans-First Contracting Program.
This program prioritizes veterans and service-disabled veterans when allotting over $3 billion in VA contracts and subcontracts, making it an excellent way for veterans to compete in the marketplace.
Service-Disabled, Veteran-Owned Small Business (SDVOSB)
In terms of a small business certification for veterans, this one comes with fantastic opportunities. 
The government awards 3% of federal prime contracting dollars and 3% of subcontracting dollars to service-disabled veteran-owned small businesses (SDVOSB) per year. 
These SDVOSB-certified companies can apply for the 3% of set-aside and sole-source contracts and can access business training, counseling and financial assistance.
The requirements for SDVOSB participation are identical to those of the VOSB, with an exception — veterans must provide documents confirming that their disability is service-related.
4. Women-Owned Small Business Certifications
With SBA small business certification, women business owners can be eligible for at least 5% of all federal contracting dollars directed to women-owned small businesses (WOSB) each year.
Woman-Owned Small Business (WOSB)
WOSB certifications provide these organizations with more visibility and contracts in industries where WOSB is underrepresented. 
To obtain WOSB certifications, applicants must meet WOSB requirements, including that the business is at least 51% owned and operated by women who are also U.S. citizens. Business owners can apply and manage their WOSB certifications on the beta.certify.sba.gov portal. 
Besides access to federal contracts, WOSB members also enjoy benefits that include participation in networking events, training and mentoring programs.
Economically Disadvantaged Woman-Owned Small Business (EDWOSB)
Some government contracts are open only to economically disadvantaged women-owned small businesses (EDWOSBs). 
EDWOSB candidates must meet additional economic conditions, including having a personal net worth of less than $750,000 and an adjusted gross yearly income averaging $350,000 or less over the 3 years before certification.
Roie Raitses
Co-Founder and CMO at Fast Capital 360
Roie Raitses is the co-founder and CMO of Fast Capital 360, a leading online business loan marketplace. Before this role, he was the Vice President of a wealth management firm where his passion for small business (and his mission) was born: create a simpler, easier method for business owners to find the resources they need to grow.