Regardless of the size of your building, primary spaces play a significant role in your restaurant floor plan and its overall feel, look and function.
Here's why you need a floor plan, your options for a restaurant layout and design ideas.
Why Do Restaurants Need a Floor Plan?

Whether you're opening your doors for the first time or getting ready to undergo a significant renovation, having a layout plan will be crucial to your restaurant's efficiency, your customers' and staff's contentment, and thus, your overall success.

The following questions can guide your restaurant floor plan and ensure you're addressing your customer and staff needs:

Can customers sit at a table and keep a comfortable distance from other diners?
Can servers and bus staff easily maneuver through the main floor and smoothly enter and exit the kitchen?
Does the bar floor plan encroach on the sit-down dining area and experience?
Is there enough space to store takeout orders, and can people easily retrieve them?
Are the restrooms far enough from the dining space that customers won't be bothered by sounds (or even smells)?
Are you in compliance with Americans with Disabilities Act (ADA) requirements?
Modern Restaurant Floor Plan: Smaller by Design
When developing a restaurant floor plan, the conventional method allots 60% to customer space and 40% to the kitchen. Doing so maximizes the seating area to serve the most guests. However, the shift to off-premise dining is changing how we view restaurant layouts. 
Josh Broehl, senior vice president and managing director of design firm Big Red Rooster, told trade website Restaurant Dive that dining in accounts for about 15% of a typical restaurant's sales compared with roughly 40% several years ago. 
This shift to off-premise dining means owners want their restaurant floor plan designs to adequately serve both on- and off-premise diners. 
To accomplish this, restaurateurs can: 

Develop delivery and to-go spaces that simplify the guest experience
Create a restaurant kitchen floor plan with extra prep space for off-premise orders
Before using a restaurant floor plan maker, it's essential to consider how you'll incorporate your guests and future needs into the design. Start by analyzing your primary spaces to get a feel for what restaurant layout design will work best for you. 
Consider the Primary Spaces
Restaurant floor plans include 4  primary spaces: kitchen, restrooms, dining room and entry. How you configure these locations depends on a combination of factors, including local and state regulations. 
While online restaurant floor plan creators help you visualize your layout, your first step is to review how your primary areas function. After all, your kitchen may require extra space to handle carry-out and delivery prep. Or your entry might double as a pick-up area for customers and third-party delivery drivers. 
Turn your concept into a functioning space while maximizing square footage with these small restaurant design ideas.

Small Kitchen Layout 
A restaurant's kitchen floor plan can be a massive undertaking, requiring dedicated space for essential elements such as:
Washing
Storage
Food preparation
Cooking
Service
In most cases, start with basic restaurant layout examples and consider how each concept fits your business model. But, "today's kitchen will need to be built with tomorrow in mind," according to QSR Magazine. So, a modern restaurant floor plan should consider future opportunities. Consider these 3 standard commercial kitchen floor plans, then pick (and perhaps) tweak the best fit for your needs.
1. Island-Style Layout
This open design places the main cooking equipment in the kitchen center with storage and food preparation along the outer edges. While this plan works best in a large square kitchen, a commercial kitchen designer can help you modify this style to fit your kitchen dimensions.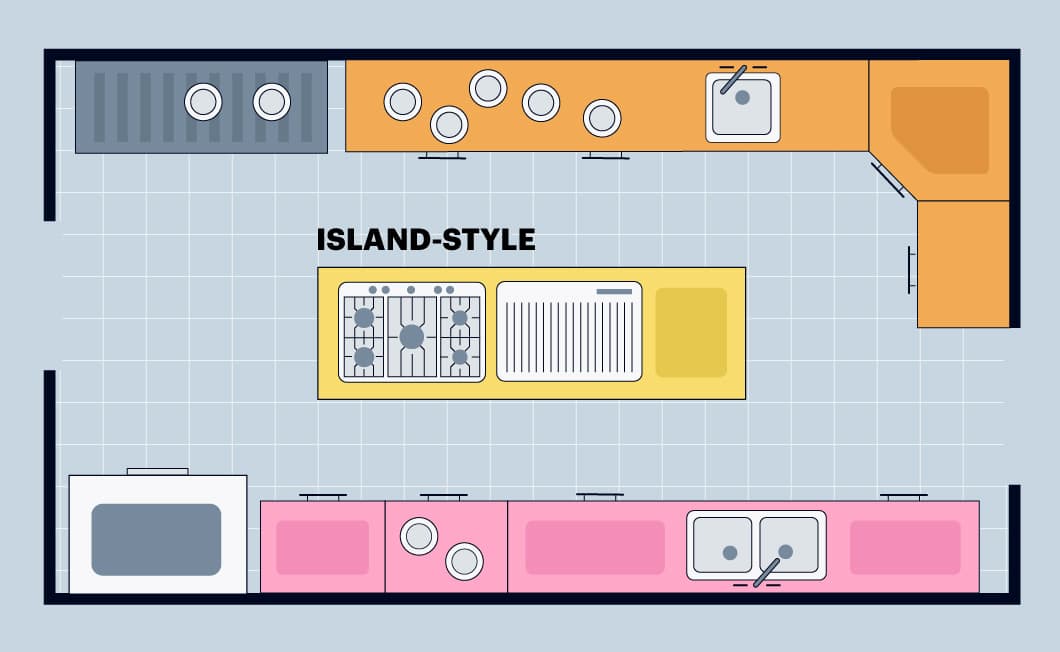 2. Zone-Style Design 
With a zone-style plan, the major components (such as cleaning and food prep stations) line the outside walls in blocks. The center is left open for natural movement from one area to another. This plan allows for excellent communication but might prove impractical if you operate with a small crew.
3. Assembly-Line Plan
This kitchen floor plan is often used in quick-service restaurants, although it can be adapted for various eateries. As the name suggests, the plan flows across your kitchen. At one end, you might have a food preparation area that shifts to a service space at the other end. Restaurateurs often place storage and dishwashing sections behind the assembly line.
Get Help With Your Kitchen Floor Plan

Once you've decided on a general layout, play with the design using an online restaurant floor plan creator, such as SmartDraw, RoomSketcher or CadPro. Before making any significant decisions, consult with a contractor or architect who understands local and state codes for commercial restaurant layouts. 

Talk to your food-service vendors and ask if they offer kitchen design services or recommendations.
Vet local contractors who demonstrate experience with commercial restaurant kitchen floor plans.
Speak with your local health department, building inspector and follow the Americans with Disabilities Act (ADA) guidelines. 
Place the Restrooms
As a cost-saving measure, restaurateurs often place the restrooms as close to the kitchen as possible. Why? Doing so reduces the amount of piping required and lowers the overall design cost. 
Key Considerations in Restroom Design
Consult with experts to ensure that your plan satisfies building codes and ADA requirements. For example, there are specific space guidelines for single-user and multiple-user restrooms. Other considerations include:
For a multiple-user space, the number of people who will use the bathroom at the same time
Your restroom's proximity to the dining room and kitchen
Available space for family-friendly features, such as changing tables
Design the Dining Area
The dining area is a fun space to manipulate when using an online restaurant floor plan creator. With an online restaurant layout design tool, you can change your table shapes and sizes a bit for flexibility. While many restaurant owners want to get maximum seating, also consider that your guests and staff must easily move through the area. This space also must meet ADA requirements; the website Total Food Service supplies these general seating guidelines: 
Fine dining: 18-20 square feet
Full-service restaurant dining: 12-15 square feet
Counter service: 18-20 square feet
Fast food: Minimum of 11-14 square feet
It's crucial to account for more than tables and chairs. Consider how each of these small restaurant design ideas fits into your dining space. 
Dining Floor Plan Ideas
If you're using a restaurant floor plan maker, it's easy to shift tables against walls and adjust your design. Yet, your dining room layout must make room for other elements, such as:
Service station
Flex area

Needed for entertaining groups and holding private events
Flex space has moveable furniture (think tables and chairs as opposed to built-in booths)

Co-working space

Rent out tables or room space to business groups for meetings or to freelancers and work-from-home employees to use as a co-working space during slow times throughout the week. This could generate additional income.
Place the Entry and Waiting Area
While the entry and waiting area is often an afterthought, modern restaurant floor plans emphasize the importance of this space. Not only is it the first section that guests experience, but it also impacts off-premise service. Such areas may include: 
Counter space for cash registers, POS systems and third-party tablets 
Dedicated shelving for to-go orders and deliveries
Flexible space for host supplies like silverware and menus
Self-service kiosks
Restaurant Layout Floor Plan: Entrance Sample
Your restaurant layout should create a flow that enables customers and staff to navigate the entry. 
With increased carry-outs and delivery services, more restaurateurs locate their kitchens closer to entrances to better communication between staff members.
Design a Bar Floor Plan or Countertop Area (Optional)
Consider adding a bar or countertop area so customers can get a drink or a quick appetizer while they wait to be seated (or wait for to-go orders). A bar space helps open up your entrance. It also gives you the ability to serve more people. However, adding a bar or countertop area may increase your design costs as health department guidelines might require additional sink or sanitation requirements. 
Other Restaurant Layout Considerations
In addition to primary spaces, restaurant owners should consider various storage spaces for supplies and deliveries and dedicated employee areas. 
Storage space: Where will you store bathroom cleaning supplies, extra condiments, booster seats and high chairs? Where will commercial deliveries take place — and where will those items be stored? Do you need space for an additional cooler or freezer required for high-volume ingredients?
Employee room: Your restaurant's break room provides an area for pre-shift meetings and offers staff a secure place for their belongings.